Saturday, September 11, 1999
The alarm-clock woke us at seven, and we had a luxurious breakfast at the hotel: There was a buffet with scrambled eggs, hash browns, fresh juice, melon and other fresh fruit, rolls… and tea.
Then we went to the Grand Canyon National Park. On the way, the car got its morning shower – the first rain on our trip. We went to the Visitor Center first, and while we were watching the slide show, there was a hailstorm outside.

We left the car in Grand Canyon Village and took a shuttle bus to Maricopa Point.
The shuttle buses are really a good idea. I guess Grand Canyon (South Rim) is one of the most crowded National Parks in the USA, and there would be traffic jams all the time if everybody were allowed to drive at his own will. In fact, I think other parks should have a shuttle bus as well. Yosemite has one, and Zion is planning one, I think. Zion was awfully crowded with cars, but Grand Canyon was not. Plus, both of us could look out of the window and take in the scenery without having to concentrate on driving.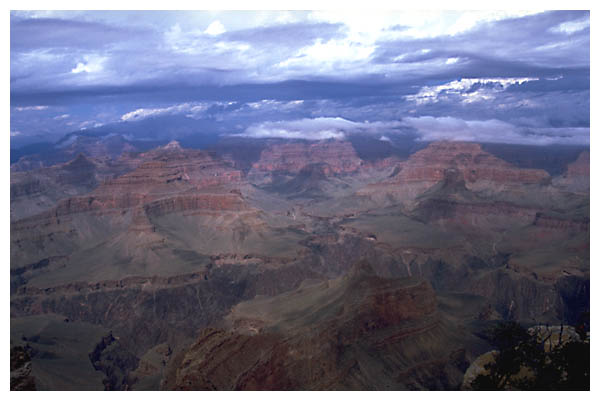 From Maricopa Point, we walked to Hopi Point along the rim trail. It rained several times, but not too hard. Only once we had to seek shelter under a tree, but we were rewarded with a rainbow! It was not in the sky, though, but in the canyon. Strange… have you ever seen a rainbow from above?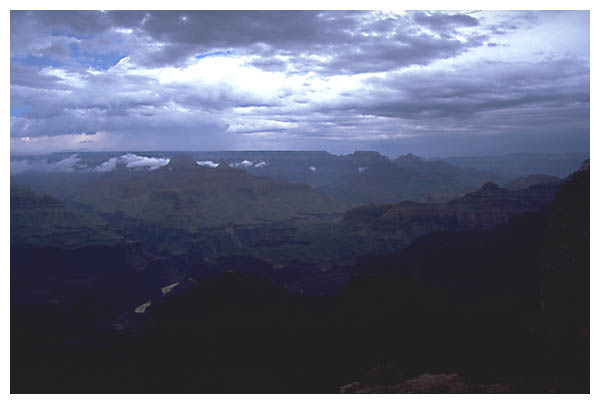 Unfortunately, the rain and the clouds obstructed the view of the canyon. The clouds came in from the west, dropped into the canyon and changed the scenerey to a large, cloud-filled hole in the ground. We took some photos in the few minutes that we could actually see the bottom of the canyon. However, we managed to get an impression of how large the canyon is, and how beautiful it must be in sunshine.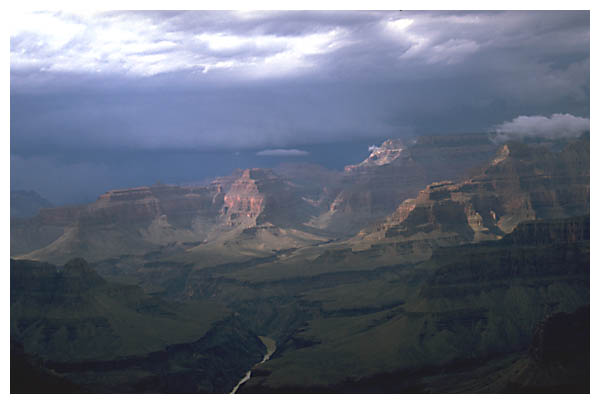 Taking another shuttle bus, we went to the Abyss and to Pima Point. Our last stop was at Hermit's Rest, the terminus of the shuttle bus.

At 4:30 p.m. we were back at the car and drove east, the road following the rim all the time until we reached Desert View near the east entrance. There's an old watchtower there, which you can climb for fifty cents. In fair weather, the view into the canyon must be spectacular!
Then we left the park and headed for Page and Lake Powell. Because of the weather and the time difference to Nevada it was getting dark early, and we missed the Painted Desert. But the weather provided the most spectacular sunset I've ever seen!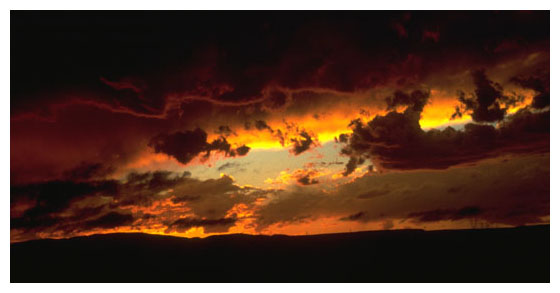 We reached Page around 8 p.m., found a nice but slightly expensive hotel room (it was saturday, so most rooms were already taken) and had a wonderful dinner in the restaurant of the hotel.
---
Previous | Next

Index | Camera | Map
1 | 2 | 3 | 4 | 5 | 6 | 7 | 8 | 9 | 10 | 11 | 12 | 13 | 14 | 15 | 16 | 17 | 18 | 19 | 20 | 21 | 22 | 23 | 24 | 25 | 26 | 27 | 28 | 29 | 30