My parents visited for a couple of days, and together with them, André and I went to Bad Münstereifel, the town in which my school is located. Here are a few photos that I took on March 25, 2002.
The Werther Tor is the southeastern gate in the town wall. The little figurine above the gate is St. Francis of Assisi (Franz von Assisi), I think.
This is my school. It was founded by Jesuits in 1625; the oldest part of the school building (next to the church) was built in 1614. Today, the school is no longer run by the Jesuits or the church, but by the state Northrhine-Westphalia.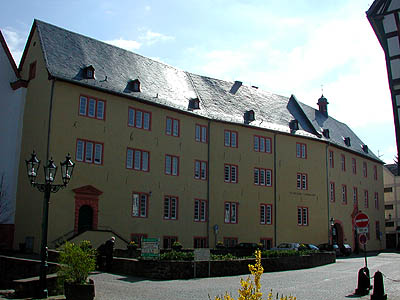 A view from the schoolyard (right).
The St. Michael church (white building) is right next to the school (yellow building). The grey-and-green structure with the big windows is the hallway that connects the new extension of the school that was built in 1981 to the old building.
This is the town hall of Bad Münstereifel, built around 1550.
The Stiftskirche (left) was built in the 12th century; the old tannery (Gerberei) is a café nowadays.
The town wall is still intact after so many centuries, and part of it is open to the public. The view over the town from up there is splendid.
The Heisterbacher Straße, seen from the Heisterbacher Tor, the northwestern gate of the town wall.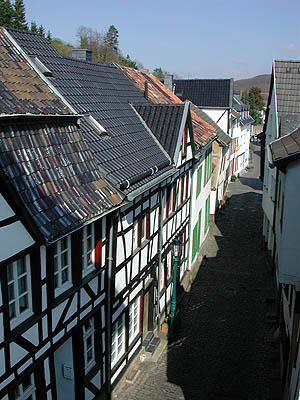 Some views of Bad Münstereifel. You can see the school, the St. Michael church and the Stiftskirche in some of the photos.