I just came back from Koblenz, where André and I met with Craig for a late lunch – typical German food like Pizza and Pasta

– and then did some sightseeing. (The weather was great, by the way – almost too hot!)

At six, André had to get back home, but I went to the concert of the Austin Girls Choir with Craig. His daughter Leigh Ann (she's 11) sings in the choir.

They were fantastic! Their performance was really impressive. I was surprised how professional a choir with girls aged 9 to 15 (?) can sound, especially if you keep in mind that the girls were still exhausted from the trip. They only had arrived the previous day!
Originally posted on the home page on June 14, 2000.
---
Finally!

The photos are here. Do you remember that André and I met Craig in Koblenz on June 14? Well, I took some photos then, and I finally got them developed! I also had a Picture CD made, and here are a few shots of us in Koblenz.

Notice that Craig wore his UserLand Frontier T shirt so we could recognize him when we met in his hotel's lobby. (You can see the UserLand sign best in the last picture.)

A closer look at Craig's and my thumbs
Kaiser Wilhelm Denkmal (monument)
Deutsches Eck, Koblenz
The Thumb, a sculpture in front of the Deutschherrenhaus (Museum Ludwig)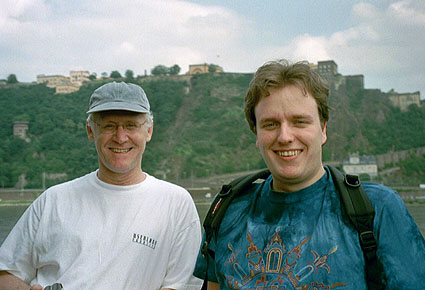 Craig and André on top of the monument
Originally posted on the home page on August 28, 2000.