Click on any picture to see a larger version.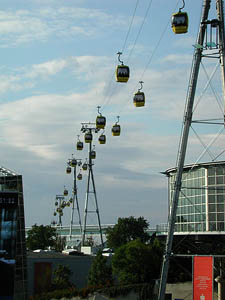 Then I went to the Eastern part of the Expo, where most of the European pavilions are.
The Messeturm (Hanover Fair Tower, left) and Planet m, the pavilion of Bertelsmann.
First, I went to see the German pavilion. I had to wait for about ten minutes to get in, so it was not too crowded.
Here it is from the outside. On the right is Janosch with his Tigerente (tiger duck).
Inside the German pavilion. On the right is a model of the Reichstag in Berlin. It is the new location of the Bundestag, the German government.
On the way to the Czech pavilion, I passed a few other interesting-looking pavilions: the Deutsche Post and Hungary.
Here's Jordan, and the Czech Republic on the right.