Click on any picture to see a larger version.
On Sunday, October 8, 2000, I went to the Expo for the second time. I had an afternoon ticket, valid from 3 p.m. until th Expo closes at midnight. However, I had to leave the Expo at 7:30 p.m. in order to catch the last train back to Bonn. I had four and a half hours, and I decided I didn't have time to wait over an hour in front of any pavilion. Because of that, I didn't get to visit the pavilion of the Netherlands, which I really had liked to see…
First, I went to the Africa hall, which I had seen only very briefly during the first visit. This time, I spent more time there…
The "Lake of Callabashes" (sp?) in the Africa Hall.
The Nigerian Pavilion is very colorful!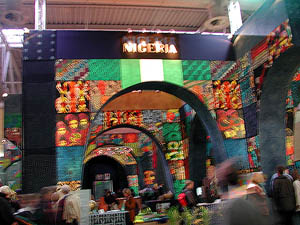 Impressive Woodcarvings. The boat (on the left) was in one of the pavilions, the women were for sale on the big African market in the hall. At the market, every African country had one or more shops, so I'm not sure which photos were taken at which shop.
Hippos and cats. The cats are made of soapstone.
A huge colorful candle and a statue made from paper at South Africa.
I passed the Lego Safari for children, with several African animals made from Lego.