On June 25 and 26, André and I went to see the World Exposition that is being held in Hanover, Germany. I posted this report on June 28, 2000, but I got the pictures only yesterday, so I thought it would be nice to put it all together. You can click on any picture for a larger version and some explanations. Enjoy!



Hanover is not far from where André's parents live. We spent the weekend there and went to the Expo twice: Sunday and Monday. On Sunday evening, we bought an evening ticekt for only DM 10 (US$ 5). The ticket is valid from 7 pm until the Expo closes at midnight. However, most pavilions close at 9:30 pm, so you get two and a half hours for your money. (Update: Now the evening ticket is valid from 6 pm until midnight, but costs 15 DM (US$ 7), still a very good value.

Here's a map of the Expo.

We entered the Expo in the North-West, next to the pavilion of Venezuela that resembles a large flower. We didn't visit that one, but started with Iceland instead. Their pavilion looks like a huge blue cube. Water runs down the walls on all four sides. Inside, there's a large spiral walkway that evolves around a round screen on the floor of the building. They show a film about Iceland there and even have a geysir that erupts at the end of the film. The blue transparent walls create a cool and somewhat mysterious atmosphere inside. I took a photo from the outside, but it turned out too dark.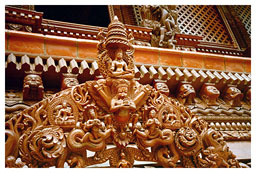 Next, we went to Nepal. (Funny how fast you can travel from country to far-away-country within minutes!) They have a real temple that has been carved from wood in old traditional ways and looks very authentic. Inside, you can watch craftsmen that do pottery etc or just enjoy the peaceful atmosphere.
Then we wanted to see Japan because they built their whole pavilion from paper (!), but there were dozens of people waiting in line to get in, so we skipped it and went on to Sri Lanka instead. The most impressive thing there were the gem cutters and a woman who was weaving a cloth veeery fast.
Our next stop was Australia's large pavilion with many interesting exhibits and the obligatory boomerangs and digeridoos.
Then we crossed the street and reached Bhutan. Like Nepal, they have built a temple. Inside, there's a room for worship (there were two monks there) and a large exhibition with all kinds of things from Bhutan.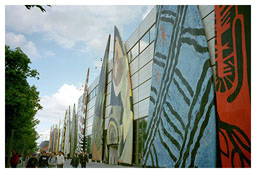 By now, it was already past nine, and we went into the African hall which houses the presentations of Benin, Burundi, Cameroon, Côte D'Ivoire, Djibouti, Eritrea, Gabon, Ghana, Guinea, Kenya, Madagascar, Nigeria, Rwanda, Togo and Uganda.

There was so much to see in the Africa hall, I could have spent a whole day just in there! But we had only twenty minutes or so left for a quick tour.
Every night, there's a thirty-minute-long fireworks and light and water and whatever show, but it was too cold that day, so we went home at 10 pm.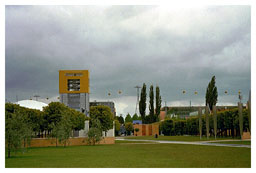 The next morning (Monday), we arrived at the Expo around ten and started exploring the eastern part of the Expo which contains most of the European pavilions. Our first stop was France, a large pavilion with mostly technical exhibits.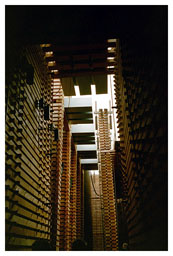 Across the street, we entered the pavilion of Switzerland. They have built their whole "house" from huge wooden beams that are being held by a metal construction. When the Expo ends, they are going to take it apart and use the wood to construct a new building.

Inside this wooden maze, there was no exhibition, just some Swiss musicians and a cafe. How disappointing! But I liked the idea to build something from beams that can be used again afterwards.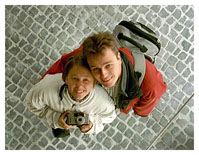 Then we briefly visited Turkey on our way to Poland. The latter had constructed part of a salt mine with a somewhat authentic feeling.

By the way, I have no idea whether we took the picture of us there; I just can remember a place with mirrors on the ceiling… Let me know if you know what pavilion has that.
On we went to the Czech Republic. (This is the western part of what used to be Chechoslovakia. The capital is Prague.) They had a "well of knowledge" there, constructed from 16 tons (a US ton is slightly less that a European ton) of books. They were shaped like a round well, and inside rotating mirrors reflected books and books and books… you weren't able to tell real books and mirror images apart. Great idea!

There was a queue in front of China, so we continued to the desert fort of the United Arab Emirates. Besides the usual exhibition about the country, they had a restaurant where you could smoke the water pipe – we didn't try it, though.

From there, back to Europe we went: to Ireland. They had a film that showed the Irish landscape, but the other exhibits were too abstract for my taste.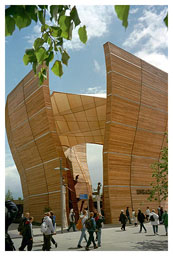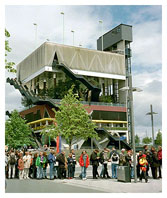 Here are some shots of pavilions we didn't visit. The one on the left is Hungary. It was their Nation day that day, so their pavilion was closed during most of the day. The one on the right is the Netherlands. They have the highest pavilion, and it is very popular, too – see all the people waiting in line to get in.

After lunch, we went to see the Thematic Area, the part of the Expo that is not dedicated to the participating nations, but to the Expo's motto: man, nature, technology. We saw the exhibitions on energy and knowledge, but were disappointed. It seems the Thematic Area uses lots of space, has (admittedly) great multimedia shows, but almost no information. I didn't learn one thing there.

The only interesting sight were the swarming robots. (Siehe dazu auch dieser Artikel der ZKM.)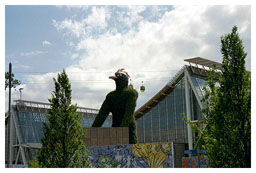 Oh, and here is part of the WWF's pavilion (if I remember correctly). They had several pyramids with grass all over, but the most interesting of the "sculptures" was this bird.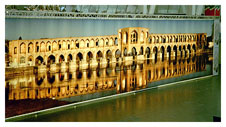 Back to the countries! In the afternoon, we visited two halls with different countries and Canada (sorry, not as impressive as I had expected), which has a hall all to itsself.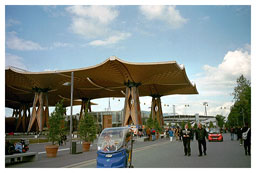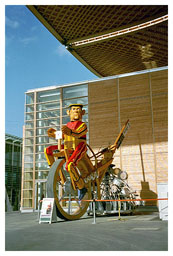 Here's a view of the "Expo Dach" (Expo roof) that spans over a large open area in the middle of the Expo. Note the little battery-powered car in the front. You can rent them at the Expo, but they're not cheap! However, it's the only vehicle you are allowed to use there. Bikes, rollerblades, skateboards etc. are all prohibited.

I think the huge bicycle (right) belongs to a show, but we didn't see it in action.

At 7 pm, after spending 10 hours on the Expo, we took a train home to Bonn. I was totally exhausted, but it was well worth it. You never get the chance to travel to so many countries all around the world in a single day, do you?

I think I want to spend another day at the Expo because we didn't see all the pavilions I was interested in. For example, I'd like to see the some South American countries, the Netherlands, Japan, China, Hungary, Italy and, of course, the German Pavilion.