Thursday, September 9, 1999
We got up at seven and left Las Vegas, driving towards Lake Mead and then along its western shore. We stopped briefly at Callville Bay and Overton Beach, but soon drove on towards the Valley of Fire State Park.

The Valley of Fire is aptly named – its red rocks stand out against the yellow-greyish rock formations that were all around. Before entering the actual park, we stopped at the Red Stones.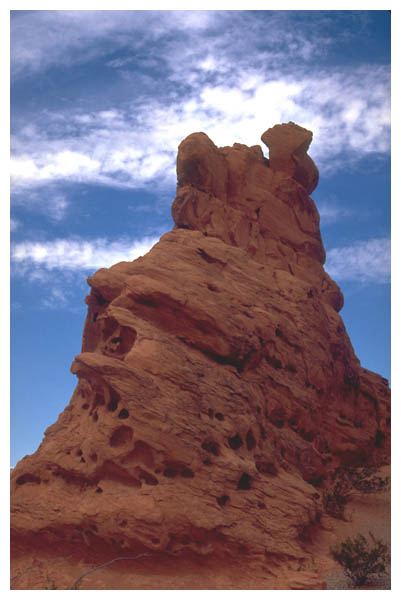 There are the strangest formations of stone in the park — here's a snowman:
I liked the Scenic Loop Road best. The road was very narrow and we wondered how the motorhomes managed to get through. In this area of the park, the red rocks were complemented by rocks of different colors – as vivid as in Death Valley's Artist's Pallette.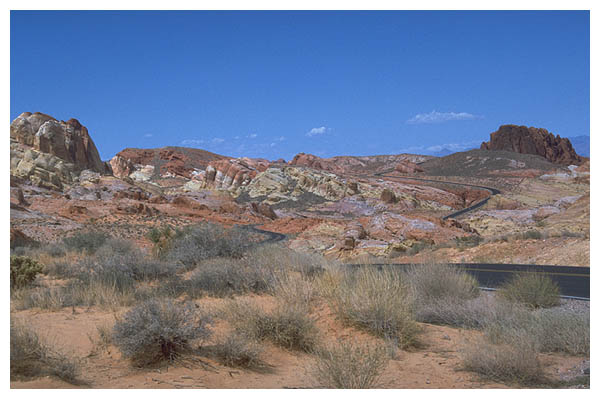 This is actually a part of the Scenic Loop where the road does not cut into the rocks.
The Valley of Fire is famous for its petroglyphs as well, so we had to stop at the Atlatl Rock. The petroglyphs are high on a rock, and there are stairs and a glass screening to keep tourists from scratching and scribbling between the petroglyphs, but unfortunately it doesn't seem to help much.
We headed back to Las Vegas in the afternoon and visited the newest addition to the string of hotels on the Las Vegas Boulevard aka. the Strip: the Venetian. The second floor featured a miniature copy of Venice, complete with the Canal Grande, Rialto bridge, and St. Marco Square. There were gondolas on the canal, and a quartett was singing Italian opera songs.

The interior is similar to the Forum Shops of the somewhat more famous Cesar's Palace, but at the Venetian the sun rises and sets at the same time it does in Las Vegas.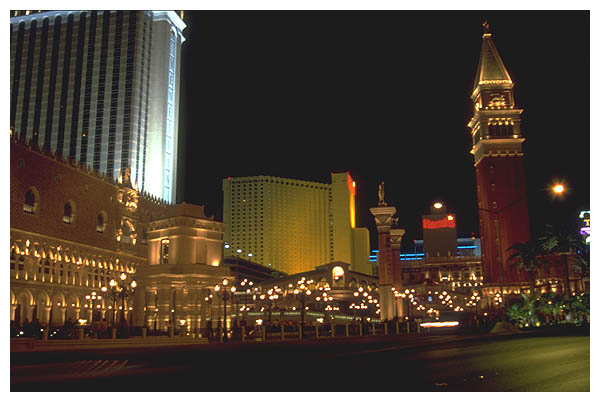 Our hotel for the night was next to the Circus Circus, and we started our tour of the strip from there, walking south. We watched the sinking of the Royal Britannia in front of Treasure Island, went on to the Mirage to watch the eruption of the volcano and then entered Cesar's Palace. Mobile walkways take you right into the casino. We didn't stop there but went on to the Forum Shops. It was late afternoon in Rome when we arrived, and during dinner the sun set and rose again.
In front of the Bellagio we admired the fountains that were dancing "All Night Long" to the music of Lionel Richie…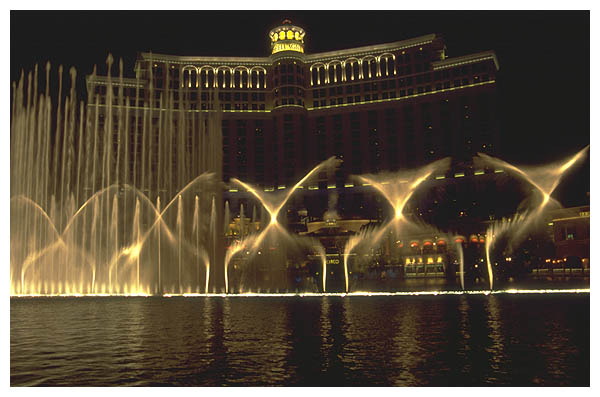 We continued past the New York New York and the Excalibur to the Luxor, but it was past midnight when we reached it. Hey, the "Strip" didn't look that long on the map! We then returned to our hotel, which took an hour and a half…
---
Previous | Next

Index | Camera | Map
1 | 2 | 3 | 4 | 5 | 6 | 7 | 8 | 9 | 10 | 11 | 12 | 13 | 14 | 15 | 16 | 17 | 18 | 19 | 20 | 21 | 22 | 23 | 24 | 25 | 26 | 27 | 28 | 29 | 30