Thursday, September 30, 1999
We were picked up by a shuttle at ten that brought us to the airport – it took less that half the time the previous tour from the airport to the hotel had taken.

After checking in our baggage, we had about three hours left until takeoff. So we got some tea and muffins and had a second breakfast.
Boarding began at 1:30 am, but we did not manage to start in time because there were at least five planes waiting in line to use the runway before us. About an hour late we left San Francisco… good by, California!
We were lucky and had a window seat, so we were able to look outside and see San Francisco disappear beneath us. Here's Oakland with Lake Merritt.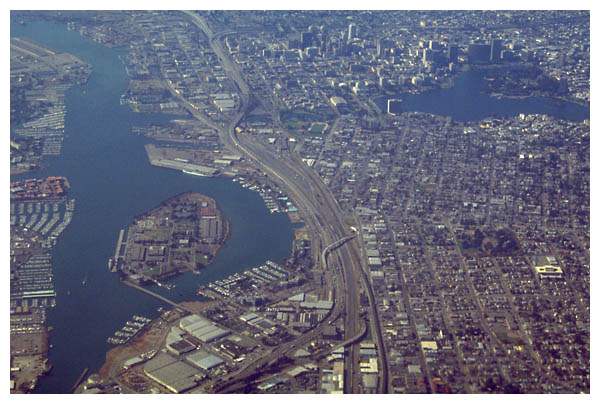 A few minutes later, we flew over Suisun Bay and Grizzly Bay, a strange sight from above.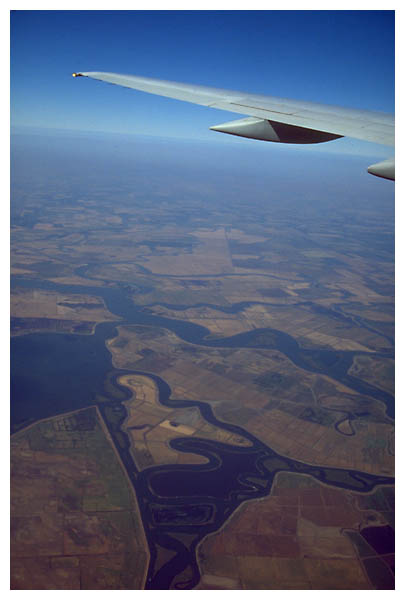 We had barely gotten out of our plane in Cincinnati when boarding for the flight to Frankfurt began. We had seats in the middle of the plane, meaning neighbors on each side and barely room to move. Soon after we took off, it was dinner time, and for the second time that day the stewardesses asked: "Steak of chicken?"
The film that was shown was the same as on the flight from Frankfurt to Cincinnati four weeks before, so there was nothing to keep us from sleeping – except for the dry air, our neighbors and other disturbances. André's cold seemed to be getting serious, so he was not able to sleep at all, and I dozed off for maybe an hour…
---
Previous | Next

Index | Camera | Map
1 | 2 | 3 | 4 | 5 | 6 | 7 | 8 | 9 | 10 | 11 | 12 | 13 | 14 | 15 | 16 | 17 | 18 | 19 | 20 | 21 | 22 | 23 | 24 | 25 | 26 | 27 | 28 | 29 | 30