Tuesday, September 28, 1999
After breakfast, we went to Union Square and took bus no. 30 to the Palace of Fine Arts. We arrived at the Exploratorium around noon and spent four hours at the "hands on" museum. I think the Exploratorium is just great! There are so many experiments, and you are allowed to touch everything, pull handles, push buttons, try everything out… this is fun not just for kids, but for grown-ups, too.



I especially liked the artificial geysers and the room with two windows that makes a person tall on one end and small on the other end of the room. Too bad you can't take a photo of it. I would have liked a picture in which I look much taller than André…

At four, we left the Exploratorium and had a brief look at the rotunda of the Palace of Fine Arts on the way back to the bus stop.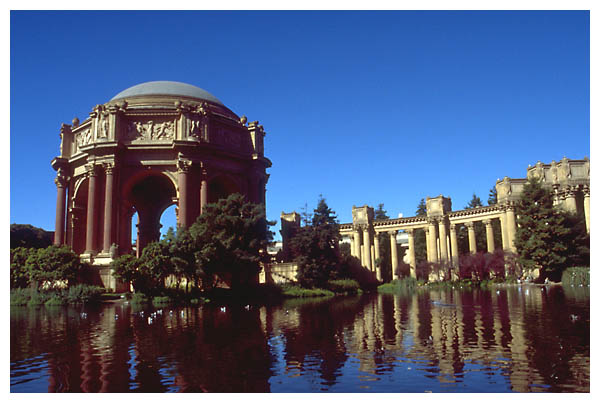 We returned to the hotel, and since André didn't feel well, he stayed in our hotel room while I went shopping for books. We went out for some ice-cream in the evening, but that was all that happened on this day since André seemed to be getting a cold.
---
Previous | Next

Index | Camera | Map
1 | 2 | 3 | 4 | 5 | 6 | 7 | 8 | 9 | 10 | 11 | 12 | 13 | 14 | 15 | 16 | 17 | 18 | 19 | 20 | 21 | 22 | 23 | 24 | 25 | 26 | 27 | 28 | 29 | 30