Sunday, September 26, 1999
We had breakfast at the "Roxanne" at Powell and Bush Streets and then went for a walk in Chinatown. We had the Lonely Planet guide for San Francisco and followed their Chinatown Walking Tour which began at the Chinatown Gate. Here's a view of Grant Street from just behind the Chinatown Gate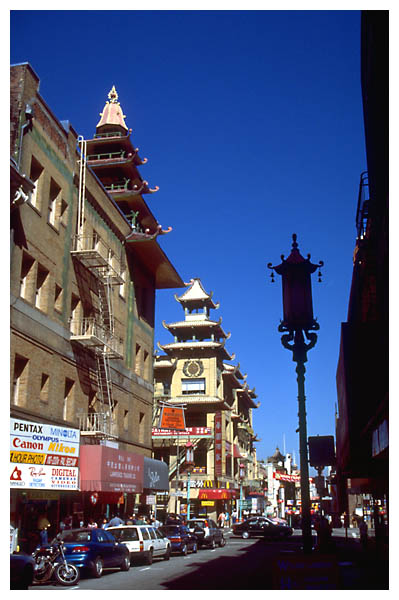 The walk led us to sights like the Old St Mary's Church, the Bank of Canton and the statue of Doctor Sun Yat-sen on St Mary's Square. We also strolled along Sacramento Street.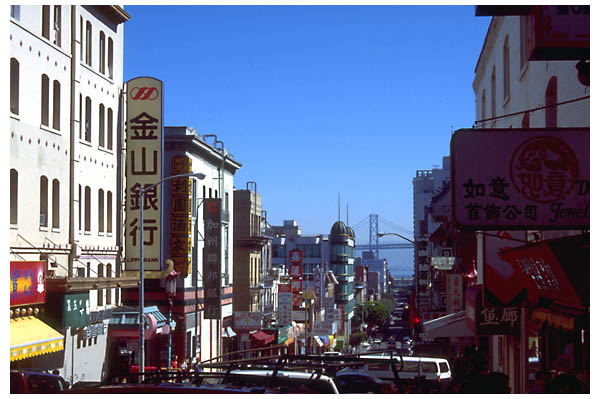 Meanwhile, it had gotten really warm (at least for our standards – around 75 or 80°F), so we went back to the hotel to change into shorts and T-shirts before heading for Russian Hill. We tried to catch a Cable Car at Powell and Bush, but of course they were all too crowded and we decided to walk there instead.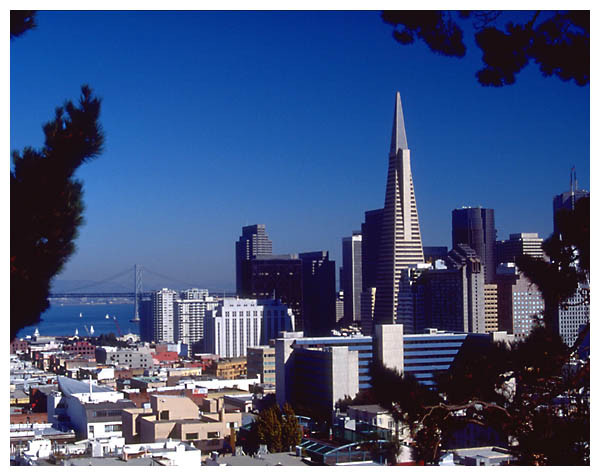 We strolled around a bit, visiting the Ina Coolbrith Park and walking through Macondray Lane from there, the famous street that Armistead Maupin supposedly used as model for his "Barbary Lane" in his Tales of the City series. A beautiful place – so quiet and green and yet in the middle of the city. This is Macondray Lane with André in the background.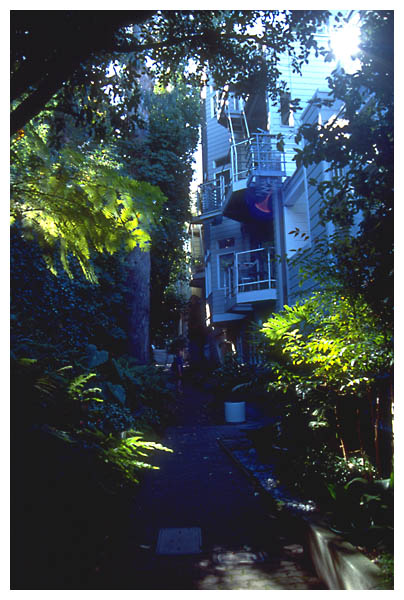 We had a brief look at the crooked part of Lombard Street because tourists have to do that, but it was not that spectacular. I had seen it before (on the student exchange in 1992), but I don't remember it being so crowded with cars. Horrible! I pity the people who live there.
We walked on along Lombard Street until we reached Pioneer Park and one of the most prominent sights of San Francisco, Coit Tower.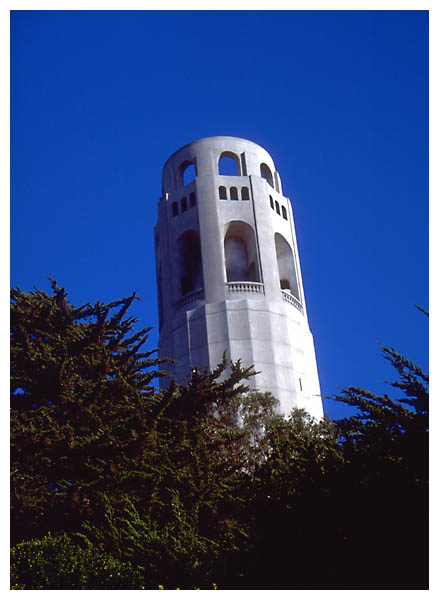 We then followed Filbert Street to Washington Square. The part of Filbert Street between Leavenworth and Hyde is the steepest street in San Francisco: it has a gradient of 31.5%, and it looks even worse than this: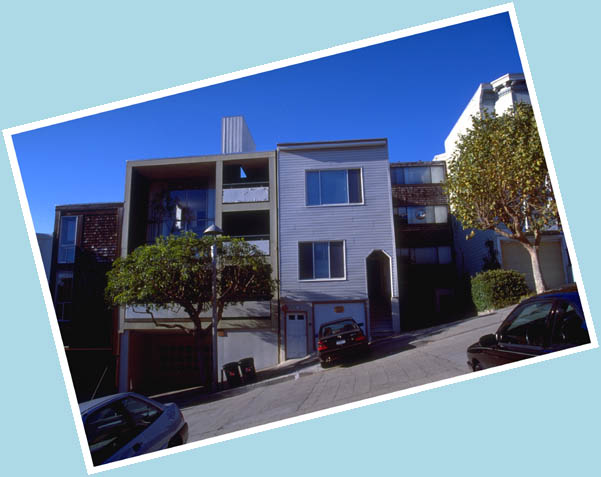 From Washington Square, we walked along Columbus Avenue up to the Transamerica Pyramid, which looks really high from the distance, but is not that tall after all…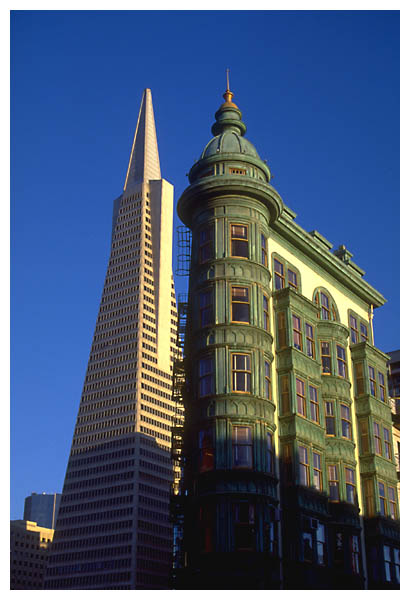 … or is it? The building in the foreground is Columbus Tower, property of filmmaker Francis Ford Coppola. Some of the offices of his film company called Zoetrope are in the building.
We reached Union Square at 7 pm and still had two hours left to shop at Borders – wow! In Germany, shops are not allowed to be open past 8 pm on any weekday, and on Sundays all shops are closed anyway.
Once again, we had dinner at "Uncle Vito's". Before going to bed, we planned the following days in San Francisco – there are three left until we fly back home.
---
Previous | Next

Index | Camera | Map
1 | 2 | 3 | 4 | 5 | 6 | 7 | 8 | 9 | 10 | 11 | 12 | 13 | 14 | 15 | 16 | 17 | 18 | 19 | 20 | 21 | 22 | 23 | 24 | 25 | 26 | 27 | 28 | 29 | 30